Welcome to Oakhill Shockwave & Veterinary Chiropractic
Oakhill Shockwave and Veterinary Chiropractic is based in Calabasas, CA where it is owned and operated by Dr. Jenny E. Johnson V.M.D. Committed to the maintenance of performance horses as well as family pets, Dr. Johnson strives to keep the animals at their peak health through the use of shockwave therapy and chiropractic care.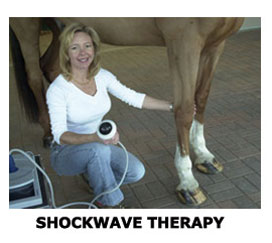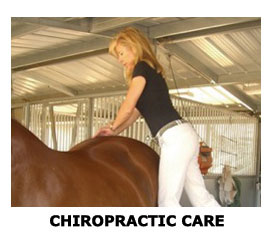 Dr. Johnson works closely with your regular veterinarian to determine the best therapeutic regime for your horse's particular condition or injury. All treatments are performed by Dr. Johnson, never a technician. You can be assured that your horse is receiving the benefit of having an experienced equine veterinarian knowledgeable in equine anatomy and physiology treating your horse.

Having successfully competed on both hunters and jumpers, Dr. Johnson has developed a keen appreciation for both the physical and mental demands placed on the equine athlete. This has enabled her to have a unique understanding of the importance of maintaining the animal's highest level of comfort so that they might perform their job with ease and confidence.


NEWS UPDATE:

Dr. Johnson's weekly veterinary tips are now available as a podcast in this exclusive series. Click the podcast image below to listen to audio clips on important vet health topics such as colic, parasite control and the principles of vaccination.