Why Oakhill?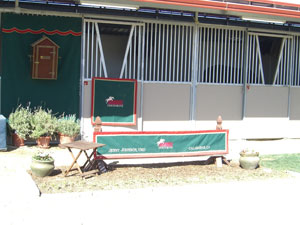 Dr. Johnson works closely with your regular veterinarian with no interruption in the continuity of care, so that all facets of your horse's or pet's health are included in developing the most appropriate treatment regime.
When working with Oakhill Shockwave and Veterinary Chiropractic your horse or pet is receiving treatment by a highly trained veterinarian. Dr. Jenny Johnson personally performs all treatments, never a technician. This insures that the treatment your animal is receiving, whether shockwave therapy or chiropractic care, is being given by a veterinarian with a thorough understanding of anatomy and physiology. This is important in both shockwave therapy and chiropractic care. In shockwave therapy, if the probe is misdirected by 5 degrees, the target site is completely missed and the treatment is not applied to the appropriate area.
Chiropractic care is a very specific and gentle treatment. The aim of the treatment is to correct areas of reduced motion in the spinal column and to positively affect the nervous system. It is essential that this treatment does not overstretch the ligaments and that the adjustments are made within the normal anatomical limits of the joint and its supporting structures. In both of these treatment modalities, the knowledge and understanding of anatomy is critical in achieving effective and safe results. Dr. Johnson has pursued extensive training in order to provide treatments with the highest degree of accuracy and safety.
Additionally, Dr. Johnson spends a great deal of time researching the latest developments in shockwave therapy and is in contact with the world wide leaders in shockwave research. This depth of knowledge of the technology and the latest research findings allows Dr. Johnson to be aware of nuances and subtleties in performing shockwave therapy that others may not be familiar with.
Dr. Johnson has over 200 hours of post graduate level training in animal chiropractic and has successfully met rigorous qualification standards for certification by the International Veterinary Chiropractic Association. She maintains contact with numerous scholars in animal chiropractic and continues to pursue recent findings and developments in the field of animal chiropractic.
Dr. Johnson has been an active lifelong competitor in show jumping and understands the mental and physical demands placed on the equine athlete. This is especially important when planning treatment schedules to correlate with competition schedules.
With Oakhill Shockwave and Veterinary Chiropractic, Dr. Johnson strives to provide the utmost in patient care and customer service.