Shockwave for Horses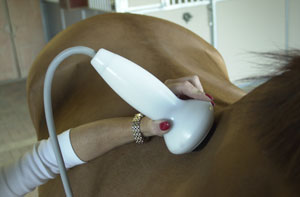 WHAT CAN SHOCKWAVE THERAPY DO?
Shockwave therapy has been shown to:
• Stimulate new bone growth
• Increase cell permeability and
stimulate the release of a cascade of
healing and growth factors that
contribute to the healing process
• Stimulate stem cells in the animal's
body to be directed to the treated area
• Cause neovascularization
(ingrowth of new blood vessels)
• Possibly stimulate fibroblasts, the cells
that generate new connective tissue
• Decrease the activity of the mediators
involved in cartilage breakdown and the
formation of osteoarthritis, essentially
interrupting the progression of arthritis.

WHAT CAN SHOCKWAVE TREAT IN HORSES?
Shockwave therapy has been successfully used to treat many soft tissue and bony problems, both acute and chronic. These include, but are not limited to:
• Suspensory ligament tears and strains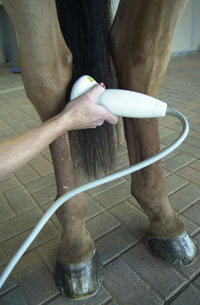 • Suspensory injuries with avulsion fractures
• Tendon tears and strains
• Osteoarthritis
• Collateral ligament injuries
• Impar ligament injuries
• Deep digital flexor tendon injuries,
including those in the hoof
• Navicular syndrome
• Ringbone
• Joint inflammation and pain
• Back pain
• Neck pain
• Muscle tears and strains
• Repair ligament injuries
• Infected or large wounds
• Burns


WHAT IS THE TREATMENT PROTOCOL?
The precise treatment protocol depends on the diagnosis of each individual patient. Treatment varies in the number of shockwaves administered and the energy of those shockwaves. Most conditions are treated a total of three times spaced at 2-3 week intervals. Occasionally, additional treatments will be required in more severe injuries. The treatments are easily performed at your facility with the horse under mild sedation.


WHEN WILL RESULTS BE SEEN?
Typically, the horse will start to see some reduction in pain and/or swelling within hours. This will generally last 2-4 days and then the horse will return to close to the original status. Then, over the next two to three weeks, actual healing will take place.